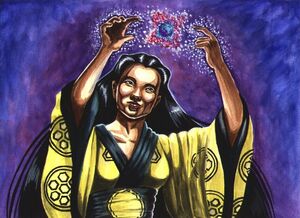 Satoshi was the sensei of Zokusei. Both were rogue shugenja that helped to anyone who need them. [1] Satoshi passed all the knowledge he had to her. [2]
Isawa's Last Wish
Edit
Zokusei and her sensei were there when Shiba Aikune first unleashed the power of the Isawa's Last Wish. They tended the fields of the dead and dying after he moved on. [1] Through magic Zokusei was able to communicate with her master. [3]
Zokusei knew Mirumoto Temoru was gathering information about the Wish, and began to follow. When Temoru contacted a Yobanjin tribe, that swore to have information, the ronin shugenja saw how the dragon was ambushed by a dozen of the barbarians. Zokusei helped him with magical attacks and the Yobanjin fled. [1]
Origins of Isawa
Edit
Temoru and his eventual companion, Zokusei, explored Yobanjin lands [3] [4] and in 1160 eventually came to the City of Gold, a massive Yobanjin fortress that bore the mark of Isawa on its gates. [5] Temoru spent time within the city and learned the Yobanjin language. From his studies Temoru concluded that Isawa had been born in that area and that an ancient race had created something very similar to the Wish long before Isawa lived. [6]
External Links
Edit
References
Ad blocker interference detected!
Wikia is a free-to-use site that makes money from advertising. We have a modified experience for viewers using ad blockers

Wikia is not accessible if you've made further modifications. Remove the custom ad blocker rule(s) and the page will load as expected.