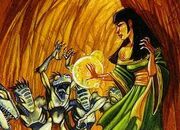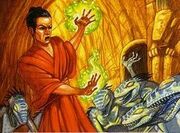 The Zesh Tribe were zokujin that lived in Dragon Clan lands, in the sacred cave known as the Cavern of Gold. [1]
Dark Oracle of Fire
Edit
The Dark Oracle of Fire, Tamori, selected their cave as his lair, so the zokujin were forced to move away. [2] In 1159 the Zesh were trying to destroy Tamori. [3] They allied themselves with Tamori Shaitung and Isawa Nakamuro in order to defeat the Dark Oracle. [1]
Kwown Chieftains
Edit
References
↑ 1.0 1.1 Imprisoned
↑ Secrets of the Dragon, p. 83
↑ Legend of the Five Rings; Third Edition, p. 36
Ad blocker interference detected!
Wikia is a free-to-use site that makes money from advertising. We have a modified experience for viewers using ad blockers

Wikia is not accessible if you've made further modifications. Remove the custom ad blocker rule(s) and the page will load as expected.