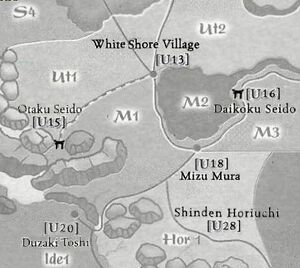 The Zenzan province (M1) was a Unicorn province of the Moto family. [1]
The province was bordered by the Isei province (Ut1) to the North, by the Kawabe province (M2) to the East, by the Ujidera province (Hor1) to the South, being enveloped by the Garanto province (Ide1) to the East. [1] Its most notable holdings were Plains Wind Monastery and Chai Seido. [2]
Clan Heartland
Edit
The family that ruled the Unicorn Clan also ruled the so-called "clan heartland" – the provinces of Zenzan, Ikoku, and Kawabe, so this province passed from the Shinjo to the Moto in the 12th century when the Moto began to rule the clan. [3]
References
↑ The Atlas of Rokugan, p. 181
↑ The Atlas of Rokugan, p. 177
Ad blocker interference detected!
Wikia is a free-to-use site that makes money from advertising. We have a modified experience for viewers using ad blockers

Wikia is not accessible if you've made further modifications. Remove the custom ad blocker rule(s) and the page will load as expected.