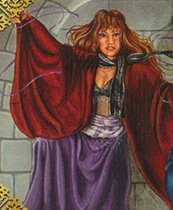 Zenaida was a sahir of the Qabal. She disliked the jinn and was known as the Bane of Jinn. [1]
Prophecy
Edit
The Qabal Champion Hekau found one of the Bahiya, the Avatar of the Goddess Amru, but he was captured by the Senpet city guard. [2] [3] Zenaida took under her protection Amru to find the rest of the Avatars, that would trigger the ancient prophecy known as the Awakening. [4]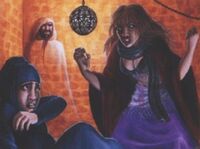 Amru was a small girl that had suffered a quick row of bizarre evenements, and she did not know the answers Zenaida eagerly sought. The Qabal was angry and questioned the Avatar furious and continuosly in the presence of a sad Tabari. [5]
External Links
Edit
References