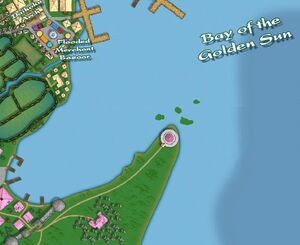 The Brutal Flame Tower was in the Tsai district of Otosan Uchi near the Golden Sun Bay. [1] It was one of the flame-posts surrounding the Imperial City and served as guide-light for ships and travelers. The tower was one of the two built at the tips of the Antlers of the White Stag. [2]
The tower took its name from the Battle of the White Stag, when a fire Isawa tensai stood atop it and called down the fire kami upon the gaijin invaders. [3]
In 1123 the District Governor Bayushi Tsai used the pyre of the tower to burn the corpses which he wished to be disappeared. [2]
Fall of Otosan Uchi
Edit
In 1159 the tower was attacked by a giant oni from the water in the Fall of Otosan Uchi. The survivors of the attack, Shinjo Monoko, Moto Yuhija, Shiba Keisai, and Matsu Onuri fled to Otosan Uchi to join it's defenders. [1]
References
↑ The Atlas of Rokugan, p. 249
Ad blocker interference detected!
Wikia is a free-to-use site that makes money from advertising. We have a modified experience for viewers using ad blockers

Wikia is not accessible if you've made further modifications. Remove the custom ad blocker rule(s) and the page will load as expected.