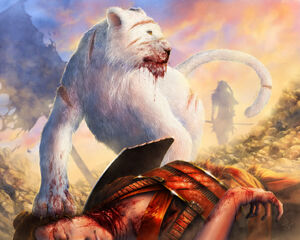 Zaiko was the favored Battlecat of the Matsu Daimyo Matsu Chizuki. [1]
Attacking the Scorpion
Edit
In 1200 Chizuki led a contingent of Matsu troops to the Scorpion Clan, crossing the small Shamate Pass. Their enemies were waiting them, collapsed the pass behind the front group, cutting them off. Zaiko supported Chizuki against Bayushi Katsue, who was killed shortly thereafter. [2]
External Links
Edit
References