Z'chkir was a Nezumi Shaman of the Third Whisker Tribe. He attained the status of enlightenment.
Enlightenment
Edit
Z'chkir viewed his students, Achirin and K'mee, as though they were his children. He devoted his life to dispensing wisdom and fostering hope in others, and thought that perhaps that was what it meant to be enlightened. [1]
External Links
Edit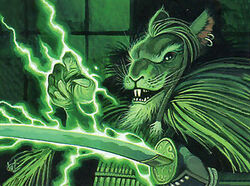 References
Ad blocker interference detected!
Wikia is a free-to-use site that makes money from advertising. We have a modified experience for viewers using ad blockers

Wikia is not accessible if you've made further modifications. Remove the custom ad blocker rule(s) and the page will load as expected.