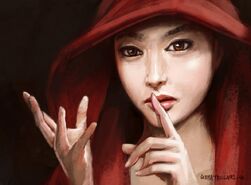 Yunmen, known as The Whisper because of her soft-spoken manner, was a female monk of the Brotherhood of Shinsei. During the Age of Conquest she was a very prominent member of the Order of Benten. [1]
Appearance
Edit
Yunmen was shaven-headed and used to wear no adornments. Despite that she was a radiantly beautiful woman. The Order of Benten's leadership was aware of the effects she had on others and often sent her to court to present the order, if not the Brotherhood as a whole. [1]
She often used subdued expressions and simple gestures, which only seemed to magnify the interest others took into the wisdom she could offer. Her incredibly soft-spoken manner earned her the name The Whisper, but her word carried tremendous weight in courtly circles. [1] She began to teach secret techniques of the Brotherhood to other monks, such as Omigawa. [2]
The Brotherhood fights Fudoism
Edit
The teachings of the prophet Fudo had become quite popular within the Colonies. Traditional Brotherhood monks considered them blasphemous or at least dangerous. When a political obstacle presented itself, the Whisper was sent. Yunmen was among those monks sent as advisors to the Great Clans to help denounce and fight Fudoism. [3] In 1198 she and seven other fellow monks traveled together to the Colonies [4] and offered herself as advisor to the Spider Clan. [5]
External Links
Edit
References
Ad blocker interference detected!
Wikia is a free-to-use site that makes money from advertising. We have a modified experience for viewers using ad blockers

Wikia is not accessible if you've made further modifications. Remove the custom ad blocker rule(s) and the page will load as expected.