Yung was a monk and good friend of Koru. He had learned the philosophy of his sensei Togashi Hizumi. The elder monk believed that destruction was the ultimate creative force, who proved it making sculpture through striking a boulder with his bare hands. Hizumi and Yung used to share a discussion once every month. [1]
Relevant Monk
Edit
Yung was so venerated by his kin that he was offered the position as Head of the Brotherhood of Shinsei in 1198 but Yung refused. He had taken up the duties of a monk to seek wisdom and achieve harmony with the universe, not serve as some bureaucrat. He arrived to the Imperial City Toshi Ranbo from Outsider Keep and met his old friend Moru, the Imperial Advisor. Yung considered a waste the exodus of nine of his fellow brothers to the Colonies, where they would fight the teachings of Fudo. [2]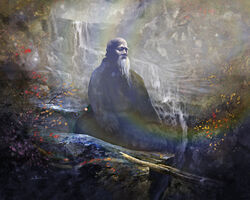 Yung became a sensei, passing his knowledge to the new generations. [3]
External Links
Edit
References
Ad blocker interference detected!
Wikia is a free-to-use site that makes money from advertising. We have a modified experience for viewers using ad blockers

Wikia is not accessible if you've made further modifications. Remove the custom ad blocker rule(s) and the page will load as expected.