Yotsu Seiki was a ronin shugenja.
Seiki was the daughter of Yotsu Yatoshin, and the fourth of his children, twin sister of Yotsu Seou, and the younger sister of Ureiko. She had five more siblings who lived in the Mountains of Regret. [1]
Imperial Heir's Return
Edit
Her mother was killed by an earthquake which destroyed the hut they were living. After the event they left the Mountains for a safer place. [2] In 1111, during their journey, Yotsu saved the Imperial Heir from Bloodspeakers, at the cost of his youngest son. [3] Seiki accompanied her father and siblings when they moved to Otosan Uchi to return the rescued Heir Hantei Sotorii to his father the Emperor Hantei XXXVIII. Yotsu was given the Yatoshin name, and the children were invited to the Imperial Court as playmates and companions to the boy they had saved. [4] Seou and Seiki were ten-year-old at that time, and always remembered their dead youngest brother, who was five. [5]
Training
Edit
A traveling ronin tought Seiki how to be a shugenja. When the sensei died he left to Seiki his spells and traveling case. [5]
Yatoshin district
Edit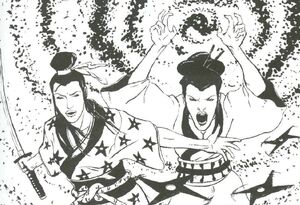 Ureiko was appointed as Yatoshin district's governor, and Seiki performed small feats of magic and divination to aid the district's management. [6]
Meeting Toturi
Edit
Siki once met Toturi when he was still the Lion Clan Champion, and the image of the brave man fighting against terrible odds burned itself into her mind. Some told her that this was love, but she refused to believe it, claiming it was idolisation of someone who has given all that he possessed for the good of the Empire and lived to tell the tale. [4] In 1125 they heard the outcast Toturi, currently known as Toturi the Black, was gathering an army in the Dragon lands. Seiki was eager to move and join her idolized hero, but Seou resisted the idea, expecting to enter in the Seppun Guard. [7]
Seiki fought alongside Toturi's Army and died in the assault on Otosan Uchi on the Second Day of Thunder. [8]
See also
Edit
External Links
Edit
References
Ad blocker interference detected!
Wikia is a free-to-use site that makes money from advertising. We have a modified experience for viewers using ad blockers

Wikia is not accessible if you've made further modifications. Remove the custom ad blocker rule(s) and the page will load as expected.