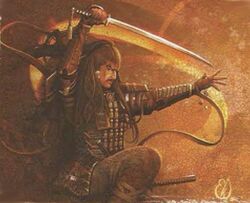 Yoshe was a ronin bushi and enemy of Seiko.
Seeking Seiko
Edit
In 1173 Yoshe was seeking Seiko at Karandetsu Market, but his trail went cold. He was approached by Bayushi Keirei, who was seeking agents of the Destroyers, confirmed he was not one of them. Yoshe was hired by Keirei to aid in his task. [1]
External Links
Edit
References
Ad blocker interference detected!
Wikia is a free-to-use site that makes money from advertising. We have a modified experience for viewers using ad blockers

Wikia is not accessible if you've made further modifications. Remove the custom ad blocker rule(s) and the page will load as expected.