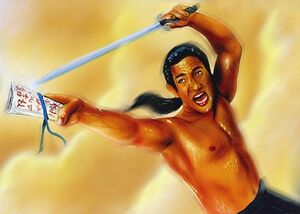 Ikoma Yosei was a strategist of the Lion Clan who retired as the monk Yosei.
Training
Edit
Yosei was trained in the Ikoma Tactician Academy, becoming a powerful and talented general in the Lion Clan Army. [1]
Retirement
Edit
In 1149 Yosei retired as a monk to tend the Ikoma Libraries. He tried desperately to adhere to the ways of a proper inkyo, despite he was tempted to overtake his vows. Yosei petitioned the Fortunes for forgiveness for his arrogant thoughts and behavior. [1]
External Links
Edit
References
Ad blocker interference detected!
Wikia is a free-to-use site that makes money from advertising. We have a modified experience for viewers using ad blockers

Wikia is not accessible if you've made further modifications. Remove the custom ad blocker rule(s) and the page will load as expected.