Yukue was a bushi of the Mantis Clan. She became Yoritomo Yukue after the Mantis was elevated to Great Clan.
Storm Legion
Edit
In 1124 Yukue was the Storm Legion Commander. [1]
Hidden Emperor
Edit
Yukue served under the command of Tsuruchi when the empire was searching for the missing Emperor Toturi I. [2]
Yukue was corrupted at Volturnum, during the Battle of Oblivion's Gate, [3] joining the ronin brotherhood the Unbroken and cleansed her taint. She returned to Mantis to give her armor and swords to her daughter, [4] Yoritomo Kajiko, who was with the Mantis. [5]
Yoritomo Kumiko
Edit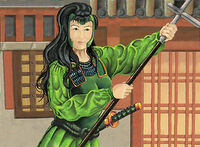 In 1160 Yukue was with the Unbroken in the Village of Broken Dreams when Yoritomo Kumiko reached the Unbroken to clean her taint. [4] Yukue remained with the Unbroken. Kumiko promised Yukue she would watch over her daughter. [5]
External Links
Edit
References
Ad blocker interference detected!
Wikia is a free-to-use site that makes money from advertising. We have a modified experience for viewers using ad blockers

Wikia is not accessible if you've made further modifications. Remove the custom ad blocker rule(s) and the page will load as expected.