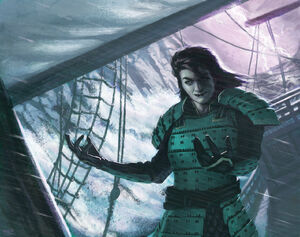 Yoritomo Tonogi was a bushi and magistrate of the Mantis Clan who fell to the madness P'an Ku exerted upon many samurai in the Colonies. [1]
The Storm of Crystal
Edit
In 1199 Tonogi, Akodo Chiyu, Yasuki Daisuki, and Moto Miyu were at Jungle's Shadow Village when the slumbering Ashalan known as Crystal Wind attacked the village. Togashi Noritada, Isawa Mizuhama, and Doji Razan, formed another group to flank the enemy. The gaijin used tattoos to enthrall his victims, [2] and Tonogi was one of those who were captured. [3] Eventually the Ashalan became dead, and the effects of the sigils disappeared. [4]
External Links
Edit
References