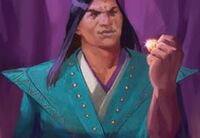 Yoritomo Tatsuhiko was a bushi and a magistrate of the Mantis Clan.
Imperial Treasurer
Edit
Tatsuhiko was a vassal of the Imperial Treasurer Yoritomo Utemaro. [1]
Destroyer War
Edit
Tsuruchi Nobumoto commanded the Mukami's Legion during the Destroyer War. [2] In 1171 Nobumoto and his elite legion destroyed a destroyers unit with the aid of his advisor Tatsuhiko. [1]
Piece of art
Edit
A mysterious statuary appeared in the Imperial Court. It was clearly made by a Crab anonimous artisan. The piece of stone depicted despair and anger, joy and sorrow and even love. It raised the spirits of those who saw it in such dreadful time during the Destroyer War. Tatsuhiko used to enjoy trading art, although when he saw the statue he did not care what he could get for it, he saw just art. [3]
External Links
Edit
References
Ad blocker interference detected!
Wikia is a free-to-use site that makes money from advertising. We have a modified experience for viewers using ad blockers

Wikia is not accessible if you've made further modifications. Remove the custom ad blocker rule(s) and the page will load as expected.