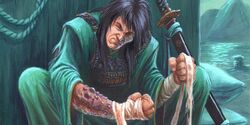 Yoritomo Tamiya was a kensai and bushi of the Mantis Clan. After Daigotsu reneged his treaty with the Empire, the Shadowlands Taint, whose effects had remained hidden, appeared on those who had contracted it. Tamiya was one of these bushi who never had surrendered their soul to Jigoku, but the corruption was revealed within him. [1]
External Links
Edit
References
Ad blocker interference detected!
Wikia is a free-to-use site that makes money from advertising. We have a modified experience for viewers using ad blockers

Wikia is not accessible if you've made further modifications. Remove the custom ad blocker rule(s) and the page will load as expected.