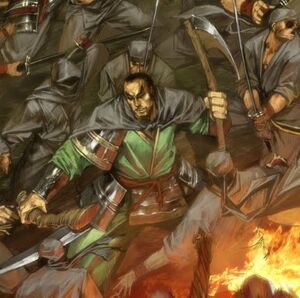 Yoritomo Takuya was a bushi of the Mantis Clan.
Hiromi's Liege
Edit
In 1198 the Mantis Clan Champion Yoritomo Hiromi spent several months at Kalani's Landing, and he took a liking for Takuya's demeanor, becoming one of his trusted confidantes. In 1199, following his Lord's orders, Takuya sent Yoritomo Matsuo to the Second City, as an envoy to the Spider Clan, to forge an alliance that would give the Mantis access to Iweko Shibatsu, the Empress's son who had been raised among the Spider. [1]
External Links
Edit
References
Ad blocker interference detected!
Wikia is a free-to-use site that makes money from advertising. We have a modified experience for viewers using ad blockers

Wikia is not accessible if you've made further modifications. Remove the custom ad blocker rule(s) and the page will load as expected.