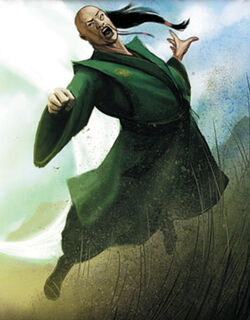 Yoritomo Saigo was a courtier of the Mantis Clan.
Colonies
Edit
Saigo was a courtier nawho did not hesitate to further his clan's goals by any means necessary. In the Second City he eventually met the sohei Omigawa, and they befriended. On travels outside the Second City, Omigawa often accompanied Saigo as a confidant and yojimbo. [1]
Siege of the Second City
Edit
During the Siege of the Second City he aided the Imperial Governor of the Colonies Otomo Suikihime to go into hiding. They embarked toward Twin Forks City with Scorpion support, and later they were met by Asako Karachu, the former lieutenant of the Ivory Champion Shinjo Tselu. [2]
P'an Ku's Madness
Edit
In 1199 when P'an Ku's madness spread over the Second City Saigo decided to leave again the city. He was surprised by the arrival of Iweko Shibatsu, who gave him legitime travel papers for his escape. The Empress' son requested Saigo to pass a letter to Lady Otomo, and also to give Omigawa and Shizuka his regards. [3] Unknown to Saigo, Shibatsu had sent a message to Suikihime's pursuer, Shinjo Tselu, about the travel the Mantis would take and whom he would meet. [4] Hiruma Tensin, an agent of the Ivory Champion, surrendered to Saigo and his entourage. When they arrived to Suikihime's refuge, the former governor decided it was time to return to the Second City. Tensin took her as prisoner. [5]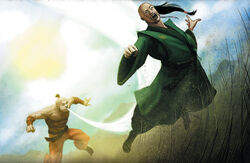 Somehow Saigo was involved in an incident at Kalani's Landing with Goju Sawaki, who employed an Egg of P'an Ku against him during their confrontation, then made escape. A duplicate appeared, who made his way to Journey's End City. The dopplenganger used in turn another Egg upon Omigawa, and eventually was captured and exposed by Ivory Magistrates. There were reports of Saigo's death, [6] at the hands of Asako Karachu. [7]
Returned to Rokugan
Edit
In 1200 Saigo returned to mainland Rokugan alongside his lord Yoritomo Hiromi, and the younger son of the Empres, Iweko Shibatsu. Saigo's features were hidden behind a mask. [8]
References
Ad blocker interference detected!
Wikia is a free-to-use site that makes money from advertising. We have a modified experience for viewers using ad blockers

Wikia is not accessible if you've made further modifications. Remove the custom ad blocker rule(s) and the page will load as expected.