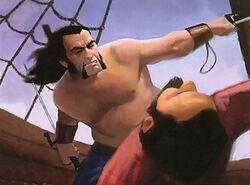 Yoritomo Ryouta was a bushi and magistrate of the Mantis Clan. He was stationed in the Broken Wave City. [1]
Shogo's Death
Edit
In 1169 Ryouta was witnessing the Jade Championship. When Seppun Shogo was found dead at The Mikado, the following investigation discovered the blade used by Bayushi Takaharu to kill the Imperial had been retrieved from Ryouta's quarters. [2]
External Links
Edit
References
Ad blocker interference detected!
Wikia is a free-to-use site that makes money from advertising. We have a modified experience for viewers using ad blockers

Wikia is not accessible if you've made further modifications. Remove the custom ad blocker rule(s) and the page will load as expected.