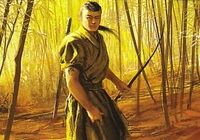 Yoritomo Okitsugu was a bushi and scout of the Mantis Clan. He was the lookout of the Seeker of Yomi.
Okitsugu informed his fellows that Yoritomo Buntaro had "discovered" Kumitae in 1168, a treatise on the martial arts written by Shinsei himself, and given to Tanari for examination. The Brotherhood determined its authenticity and the Mantis held a tournament to determine who should protect the manual. Kumitae was won by Hida Nichie and was protected by the Crab Clan. [1]
Demon's Thunder Falls
Edit
In 1171 Okitsugu returned to Faro Island with his captain Yoritomo Sasake, because Okitsugu was courting Sasake's sister. Okitsugu also had been lured by a legend Sasake told him: a monster who stole children and devoured their souls lived beneath the Demon's Thunder Falls, waiting for the hero foretold to kill it. Okitsugu came there and leapt from the falls into the sea below. [2]
Dark Oracle of Water
Edit
Okitsugu was wounded and fell unconscious before the Dark Oracle of Water, Matsu Turi. Sasake had seen him and decided to follow Okitsugu. The Dark Oracle proposed a deal to Sasake: his island and all his friends' souls in exchange for the Dark Covenant of Water (a lion-shaped miniature) and a delay before he would attack the Phoenix and Lion clans. Sasake refused the deal and left the island with Okitsugu's body. [2]
External Links
Edit
References
Ad blocker interference detected!
Wikia is a free-to-use site that makes money from advertising. We have a modified experience for viewers using ad blockers

Wikia is not accessible if you've made further modifications. Remove the custom ad blocker rule(s) and the page will load as expected.