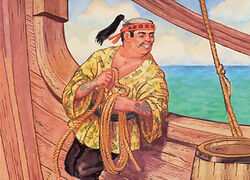 Yoritomo Nodoteki was a pirate, sailor and kobune captain of the Mantis Clan. [1]
Sea Trolls
Edit
Nodoteki in 1132 saw a lot of slidges, more than he had ever seen. They seemed were not coming of their own will, it was like if something they feared was driving the trolls from their underwater caverns. [2]
External Links
Edit
References
Ad blocker interference detected!
Wikia is a free-to-use site that makes money from advertising. We have a modified experience for viewers using ad blockers

Wikia is not accessible if you've made further modifications. Remove the custom ad blocker rule(s) and the page will load as expected.