Yoritomo Naoto was a bushi of the Mantis Clan.
Naoto was uncomfortable that his clan danced with the letter of the law to maintain its economic and military advantages. He followed orders, but he watched his actions warily to avoid degenerating into banditry. [1]
Colonies
Edit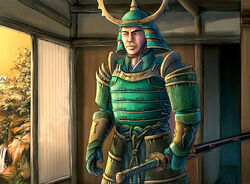 Naoto was appointed in the Colonies as a scout, and he joined the Imperial Explorers. [2]
External Links
Edit
References