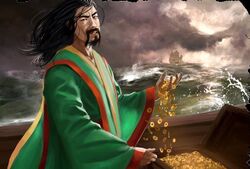 Yoritomo Minoro was a bushi, pirate, and magistrate of the Mantis Clan.
Golden Tanto
Edit
In 1200 Minoro and his followers assaulted Isawa Genma, a lonely shugenja near Morikage Toshi, to steal her a golden tanto. Eventually Minoro stabbed Genma to death. [1]
Broken Wave City
Edit
After they returned as rich men from their secret coastal reaving excursion, Minoro's ship replenished their supplies at Broken Wave City. The city seemed forsaken, and its citizen suffered a slumbering malaise. His lieutenants Yoritomo Teihiko and Yoritomo Shotsuo exposed a Spider infiltrator, who had been acting in the shadows to establish the foundation for the destruction of the city. [2]
External Links
Edit
References