Yoritomo Minori
Talk

0
18,849pages on
this wiki
Yoritomo Minori was a bushi and magistrate of the Mantis Clan. Somehow she had naga legacy, and some said she was born of man and Naga. [1]
Yoritomo Takhime was with child during the Destroyer War. Her husband, Yoritomo Minoken, was on duty onboard a kobune helping to resupply the forces fighting against the Destroyers. The baby was not supposed to come for weeks yet but the birth happened, but a girl was born dead. Takhime released her little daughter into the sea. Mere days after the stillbirth Minoken's death was reported. [2]
Naga's legacy
Edit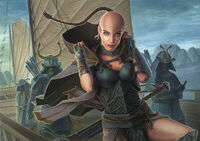 One year after the birth, Takhime was visited by a serpent man who had an infant in its arms. Takhime recognized her daughter through a birthmark in her elbo. She took the infant and called her Minori. Somehow the Naga had taken Minori from the water, returned her from death with its strange and powerful Pearl Magic, taking care of her during a year. [2]
Amethyst Champion
Edit
Somehow Minori was appointed as the new Amethyst Champion. She devoted to fight the Dark Naga. [3]
Blood of the Preserver
Edit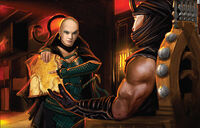 With the truth behind the Blood of the Preserver revealed, the Mantis sent Minori to petition the Spider Clan for its use. [4]
External Links
Edit
References