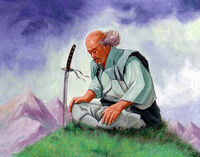 Yoritomo Masasue was a Mantis Clan mercenary and bushi during the Clan War and War Against the Shadow. He was also a Kolat agent [1] and associate of Master Tiger. [2]
Aramasu forsaking the Kolat
Edit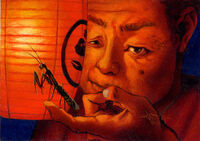 Bayushi Aramasu wished to forsake his Kolat ties, so he bartered with Masasue giving them the locations of secret Scorpion ports. [3] [4]
Masasue wished to atone his sins, and regreted his kolat membership, but Master Tiger did not let him to leave. [5]
Yoritomo and the Throne
Edit
Masasue claimed the Mantis rights to take over the Imperial Throne, embodied in Yoritomo. [6] It was supposed a part of a kolat plan. [7]
External Links
Edit
References
Ad blocker interference detected!
Wikia is a free-to-use site that makes money from advertising. We have a modified experience for viewers using ad blockers

Wikia is not accessible if you've made further modifications. Remove the custom ad blocker rule(s) and the page will load as expected.