Yoritomo Leshanu was a merchant of the Mantis Clan.
Bitter Flower
Edit
Leshanu was the captain of the Bitter Flower, and appointed Yoritomo Kitao, a ruthless woman, as first mate. They smuggled weapons and armor to the spirit armies of Hantei XVI during the War of Spirits. Leshanu was promoted, becoming one of Yoritomo Aramasu's advisors while Kitao was made captain of the Bitter Flower. [1]
Shady Dealings
Edit
After the War Leshanu's ambition grew, embezzling resources from Aramasu and selling them to the Yasuki. [1] He had brokered a commercial deal with Yasuki Jinn-Kuen, [2] [3] through Moshi Keika, his agent. [4]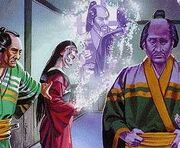 His treachery was exposed to his Clan Champion. [5] Kitao had been furious that Leshanu accepted the post as advisor of Aramasu, that was rightfully hers, and had seeking revenge since. Years later she had stumbled onto a private deal between Yoritomo Leshanu's agents and Jinn-Kuen, making a better deal with the Yasuki, who in turn had reported to Aramasu. [1]
Leshanu attempted to stop her by attacking Jinn-Kuen's ship in transit, but Leshanu was himself ambushed by the Bitter Flower. Kitao slew Leshanu and sank his vessel. [1] Aramasu blamed Leshanu's death on the clumsy way he had handled his affairs. [6]
References
Ad blocker interference detected!
Wikia is a free-to-use site that makes money from advertising. We have a modified experience for viewers using ad blockers

Wikia is not accessible if you've made further modifications. Remove the custom ad blocker rule(s) and the page will load as expected.