Yoritomo Kisho was a bushi gunso in the Mantis Clan.
Demeanor
Edit
Kisho's wretched behavior provoked controversy among his kin, who either despised or greatly appreciated him. He was an irascible, irreverent jokester and prankster. [1]
Training
Edit
Kisho showed little prowess or skill in personal combat during his time at the Yoritomo Marine dojo. It was not until his fourth year that he suddenly and inexplicably began dominating weapons exercises. He had discovered that the humiliation in the eyes of others as they were defeated by someone they had never considered a threat was more amusing than any joke. [1]
Kisho was promoted for his aggressive style and his tendency to completely overrun anyone he faced in combat. The men standing next to Kisho were among the most aggressive and effective in the entire force, as he inspired them with his constant shouts regarding the lineage and personal habits of their enemies. [2]
See also
Edit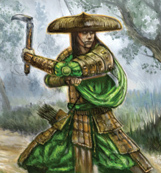 External Links
Edit
References