Yoritomo Kanaye was a bushi and corrupt magistrate, known for his brutal demeanor. [1]
Colonies
Edit
In 1198 he was appointed as yojimbo to Yoritomo Kanahashi, a magistrate on duty in Kalani's Landing, in the Colonies. [2]
Kanaye was sailing in the Ivory Coast when his kobune was attacked by a gaijin pirate ship. He bruised a prisoner, who told how to reach the pirate's lair, a sheltered cove. [3] The area would be known as Kage's Rest. [4]
Exploration
Edit
After the Imperial Governor of the Colonies Otomo Suikihime issued the Edict of Exploration, Kanahashi was sent to consolidate Mantis holdings in the unexplored lands of the Colonies. Kanaye came with her, and near a lake she created [5] the Lakeside Estates in the area which would be known as Red Lantern District. [4]
During the Mantis-Crane War in the Colonies Kanaye devised how to incriminate his enemies. He went to the Peasant District in the Second City and forced the worker headman Ito to forge the marks of Scorpion iron rods, requesting to alter them to make it seemed like the Daidoji made it. It would appear the Cranes were diverting their iron shipments owed to the Empress away for their war efforts. Kanaye threatened Ito to do a good enough job for him not to have to kill the headman to keep this quiet. [6]
Under the Eye of P'an Ku
Edit
Kanaye had come under P'an Ku's scrutiny, and he might become a Fallen, if he fell under the influx of the dragon's madness. [7] He would be transformed into a monstrosity who feasted on violence and blood. [8] Kanaye began to have a bizarre behaviour, and it was known that the preiestess Isawa Shunsuko defeated him in a duel. [9]
During the incidents that happened during P'an Ku's madness, Kanaye defeated and captured Moetechi no Oni, and contained it in the name of the Mantis Clan. Perhaps proximity to the demon either drove Kanaye to madness, or at least made him more susceptible to it. [10] Kanaye also took Bayushi Makubesu hostage. [11]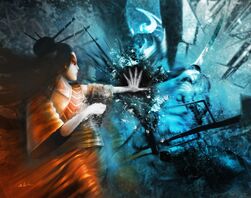 Eventually Kanaye attacked Isawa Hinata. The shugenja was forced to defend herself, [12] and killed Kanaye. [13]
External Links
Edit
References
Ad blocker interference detected!
Wikia is a free-to-use site that makes money from advertising. We have a modified experience for viewers using ad blockers

Wikia is not accessible if you've made further modifications. Remove the custom ad blocker rule(s) and the page will load as expected.