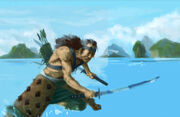 Yoritomo Kalilea was a bushi of the Mantis Clan.
Garen's Longsword
Edit
In 1165 Kalilea went to the Shrine of the Moon with a tainted gaijin nemuranai that Mantis had found at Otosan Uchi. He gave the Longsword to Asako Bairei to study and cleanse it. They did not know at that time the blade was owned by Garen Hawthorne, a undead Thrane pirate. [1]
External Links
Edit
References
Ad blocker interference detected!
Wikia is a free-to-use site that makes money from advertising. We have a modified experience for viewers using ad blockers

Wikia is not accessible if you've made further modifications. Remove the custom ad blocker rule(s) and the page will load as expected.