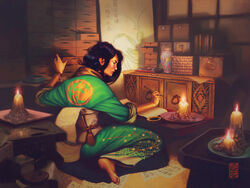 Yoritomo Haruna was a courtier and merchant of the Mantis Clan who worked for Yoritomo Yashinko. [1]
Moto Bloodline Curse
Edit
In 1199 the Phoenix Clan spread the discovery that the Moto bloodline was cursed, drawing ill fortune. In front of Yashinko, Haruna, and Moshi Karuiko, the Kitsune Daimyo Kitsune Toshitaka confirmed the astrological report with the Moshi Daimyo Moshi Ikako, who would pass it to the Mantis Clan Champion Yoritomo Hiromi. [2]
Renewed Friendship with the Crab
Edit
In 1200 the Kuni finished the work of cleansing the taint from the armor, which had been passed by the Mantis to the Crab decades ago. A celebration was held at Kyuden Hida, which was attended by Yoritomo Harumi, and she left the diplomacy to Haruna. [3]
Destruction of the Mantis
Edit
This year the Mantis Islands were overrun by a Shadowlands horde that appeared after the destruction of the Third Seal, killing her Lord Hiromi and his siblings. Yashinko assumed the leadership and ordered the Mantis Daimyo to gather at Cold Wind City any Mantis samurai in the mainland, to make a suicidal attempt to take back their homeland. Haruna sent her aide Yoritomo Fuyumi in such task. [4]
External Links
Edit
References
Ad blocker interference detected!
Wikia is a free-to-use site that makes money from advertising. We have a modified experience for viewers using ad blockers

Wikia is not accessible if you've made further modifications. Remove the custom ad blocker rule(s) and the page will load as expected.