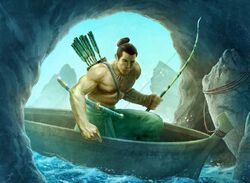 Yoritomo Harada was a bushi and scout of the Mantis Clan.
Winter Court
Edit
Harada attended Iweko's Winter Court at Kyuden Bayushi in 1170, serving as a yojimbo. He would often sit in the garden with Hiruma Seiko. In 1171 when Harada started playing his flute, Seiko began to sing. When the song was over, they noticed that Iweko and Satsu had come to thank them for performing such a beautiful song. The Empress had been retired to her quarters the last three days since she knew of the Siege of Shiro Kitsuki. The song's beauty compelled to exit her chambers. [1]
External Links
Edit
References
Ad blocker interference detected!
Wikia is a free-to-use site that makes money from advertising. We have a modified experience for viewers using ad blockers

Wikia is not accessible if you've made further modifications. Remove the custom ad blocker rule(s) and the page will load as expected.