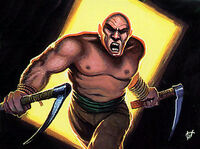 Yoritomo Gombei was a bushi of the Mantis Clan.
Appearance
Edit
Gombei was large, strong, and many thought he was somewhat stupid, and this was exactly how Gombei liked it. He truly was a reasonably skilled tactician, and only cared that the job that he does was done well. [1]
Friendship
Edit
In 1157 Gombei was admitted to the Yoritomo Elite Guard, entering in battle as mercenary against the Crab. There he met his childhood friend, the Captain of the Guard Yoritomo Sen. [2]
Mantis Civil War
Edit
As part of the Guard he fought against the Mantis Clan Champion's forces, as Yoritomo Kitao was seen as an usurper. After Kyuden Gotei was seized, Gombei was appointed as Guardian of the Heaven's Bank Hold. [1]
External Links
Edit
References
Ad blocker interference detected!
Wikia is a free-to-use site that makes money from advertising. We have a modified experience for viewers using ad blockers

Wikia is not accessible if you've made further modifications. Remove the custom ad blocker rule(s) and the page will load as expected.