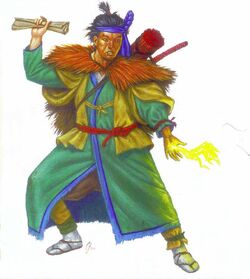 Yoritomo Gazuke was a thunder shugenja of the Mantis Clan.
"My speech is crude, my bearing common, and my schooling lacking. I do not know of the glorious histories of the Empire, nor can I speak with eloquence of its culture. But the Thunder Dragon has spoken to me, and that alone makes me your peer."
External Links
Edit
References
Ad blocker interference detected!
Wikia is a free-to-use site that makes money from advertising. We have a modified experience for viewers using ad blockers

Wikia is not accessible if you've made further modifications. Remove the custom ad blocker rule(s) and the page will load as expected.