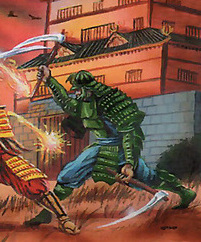 Yoritomo Denyaku was a bushi of the Mantis Clan who dueled a Shiba Gensui in personal duel in 1132 to determine the fate of Kyuden Isawa in the Mantis Invasion of the Phoenix lands. [1] Denyaku was defeated and had to flee before their own kinsmen of the Alliance took armas against him because his failure. He left the battlefield cursing and swearing revenge. His sword beared the tsuba of a bear tearing its claws against an iron tree. [2] His hatred for the Phoenix grew since his parents died. Yoritomo himself did not trust him. [3]
References
Ad blocker interference detected!
Wikia is a free-to-use site that makes money from advertising. We have a modified experience for viewers using ad blockers

Wikia is not accessible if you've made further modifications. Remove the custom ad blocker rule(s) and the page will load as expected.