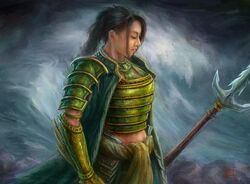 Yoritomo Chiako was a bushi and commander of the Mantis Clan.
Travel to the Ruined Kingdoms
Edit
In 1172 Chiako was a member of a Mantis expedition with Moshi Kalani to the Ivory Kingdoms during the Destroyer War, and his second in command. The Mantis found Anshu, a child they quickly deduced was the previously unknown gaijin son of Yoritomo Aramasu. Chiako considered the matter blasphemy, because she was trashed with the memory of the Mantis Civil War between Yoritomo Kumiko and Yoritomo Kitao. The Bat Clan Champion Komori calmed her down recalling Anshu was a half-gaijin, so his possibilities as claimer of the Mantis Clan Championship was nihil. [1]
External Links
Edit
References
Ad blocker interference detected!
Wikia is a free-to-use site that makes money from advertising. We have a modified experience for viewers using ad blockers

Wikia is not accessible if you've made further modifications. Remove the custom ad blocker rule(s) and the page will load as expected.