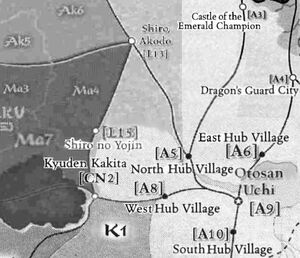 The Yojin province (Ma4) was the easternmost province of Matsu lands extending in the Plains of Battle from the southernmost borders of Ken-ryu province (Ak6) to the northernmost borders of the Kaeru province (Ma7), from the easternnmost borders of Tonfajutsen province (Ma3), to the borders of the Crane territories. Notable location within the province was Shiro no Yojin (L15), a former Daidoji holding. [1] The province was ripe and fertile, producing abundant food, and possessed a well-constructed network of outposts and defenses. [2]
Sources Conflict
The sources relating to this article are in conflict with each other.
Secrets of the Lion page 95 claims Ma4 as Azuma province, but Shiro no Yojin (L15) is within the province, so Ma4 must be Yojin province. Oni no Pikachu (talk) 17:13, December 17, 2012 (UTC)
References
Ad blocker interference detected!
Wikia is a free-to-use site that makes money from advertising. We have a modified experience for viewers using ad blockers

Wikia is not accessible if you've made further modifications. Remove the custom ad blocker rule(s) and the page will load as expected.