Yogo Towers was wholly devoted to their shugenja dojo, and Shiro Yogo served as the home of the Yogo family and the center of their administrative duties. It was in the towers the young Yogo first came to grips with magic, and the Yogo masters constantly sought to break their ancient Curse. [1]
Appearance
Edit
The building was made resembling spires which gained its fame through the Empire. It was located near the Lion lands. [2] It housed the Chamber of Curses, where tainted materials were investigated by scholars who reasearched how to break the Yogo Curse, under the careful watch of the Kuroiban. [3]
Founding
Edit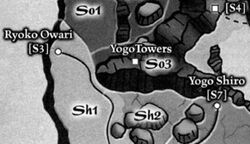 In 1123 the Towers were built as a military outpost for the Imperial Legions that occupied the Scorpion lands following their failed coup. When nearly two entire Legions were killed by the smoke from the burning Shosuro Gardens, the towers were aboandoned. [4]
12th century
Edit
The Yogo Towers were among the few such buildings that survived both the Clan War and the Scorpion's banishment across the Burning Sands. [4]
Known Masters of the Towers
Edit
External Links
Edit
Sources Conflict
The sources relating to this article are in conflict with each other.
Secrets of the Scorpion page 65 claims the Towers were built in 1123, to serve as a military outpost for the Imperial forces that occupied the Scorpion lands following their failed coup. It is possible that Bloodspeaker mistakenly named Yogo Towers instead Shiro Yogo, home of the daimyo who was killed.
References
Ad blocker interference detected!
Wikia is a free-to-use site that makes money from advertising. We have a modified experience for viewers using ad blockers

Wikia is not accessible if you've made further modifications. Remove the custom ad blocker rule(s) and the page will load as expected.