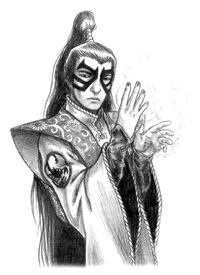 Yogo Sutebo was a shugenja of the Scorpion Clan member of the Kuroiban. In 1159 he was appointed to watch Karandetsu Market, to scry any movement of illicit materials there, which would lead to the tracks of the Shadowed Tower conspiracy. Sutebo was an intense, brooding man who considered his assignment distasteful, but extremely important. [1]
References
↑ Secrets of the Scorpion, p. 67
Ad blocker interference detected!
Wikia is a free-to-use site that makes money from advertising. We have a modified experience for viewers using ad blockers

Wikia is not accessible if you've made further modifications. Remove the custom ad blocker rule(s) and the page will load as expected.