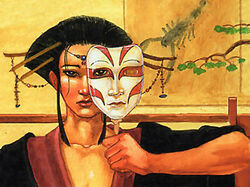 Yogo Hatsumi was the Ward Master of the Scorpion Clan, a shugenja specialized in creating and mantaining wards magic.
Ward Master of Yogo Shiro
Edit
Although she was not the daimyo her family or the sensei of the Yogo Shiro dojo, Yogo Hatsumi was neverthless among the most powerful shugenja in the Scorpion Clan. When members of other families required something to be protected, they always requested Hatsumi's assistance. She was owed countless favors by dozens of important individuals throughout the clan and the Empire. She had never called any of them in, but if the need arose she could easily command the aid of any Great Clan. [1]
Facemasks
Edit
Hatsumi was surprisingly straightforward for a Scorpion. Many suspected her honesty was some sort of façade. Hatsumi did not use a traditional Scorpion mask, but rather carried a number of handled facemasks that she held before her to represent her various moods. [1]
External Links
Edit
References
Ad blocker interference detected!
Wikia is a free-to-use site that makes money from advertising. We have a modified experience for viewers using ad blockers

Wikia is not accessible if you've made further modifications. Remove the custom ad blocker rule(s) and the page will load as expected.