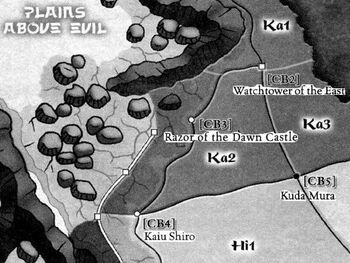 The Yoake province (Ka2) was a Kaiu controlled province.
The province bordered the Plains Above Evil to the West, the Garanto province (Hi1) to the South, the other two Kaiu provinces, Hokufuu (Ka1) to the North, and Kuda (Ka3) to the East. [1]
Holdings
Edit
It contained Kaiu Shiro, the main home of the Kaiu family, the Razor of the Dawn Castle [1] in the eastern side of the Twilight Mountains. [2] It was an agriculturally productive province with many rice paddies and grain fields. [3]
References
↑ Legend of the Five Rings; Fourth Edition, p. 337
↑ The Atlas of Rokugan, p. 25
Ad blocker interference detected!
Wikia is a free-to-use site that makes money from advertising. We have a modified experience for viewers using ad blockers

Wikia is not accessible if you've made further modifications. Remove the custom ad blocker rule(s) and the page will load as expected.