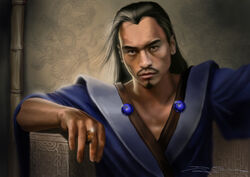 Yasuki Tsujiken was a Merchant and courtier of the Crab Clan. He used his station to become a crime boss. [1] He was chosen by the Void Dragon to receive its favors. [2]
Favored of the Void Dragon
Edit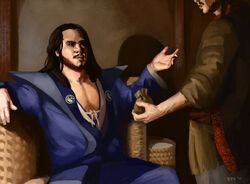 A Mantis compound had been broken by a bandit gang, and the guards slaughtered. Tsujiken was met in his sake house, the Dancing Carp, by the gang leader. The Golden Fang blamed Tsujiken, who had cut the reward for the mission because the Yasuki had ordered to avoid causing casualties in the attack. Tsujiken put the bandit gang under arrest, who were executed and his heads sent to the Mantis as proof the Crab had dealt justice. Shortly after Tsujiken experienced several visions he did not understand the meaning. The Dragon of Void found Tsujiken worthy, and blessed him. He was a contradiction that could not be explained, with a perfect logic yet remained illogical. [3] Tsujiken eventually joined the Imperial Court, where he met the Amethyst Champion Asako Izuna. [4]
Tsujiken became a sensei, passing his knowledge to the next generations. [5]
External Links
Edit
References