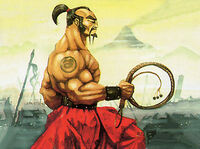 The Yasuki Taskmasters were a bushi school of the Yasuki family, their caravan guards. [1] The dojo of the Taskmasters was located in Sunda Mizu Mura. [2]
The Taskmasters were the sub-officers and commanders of the rank and file troops. They kept the heimin in line, and were also used to control the mujina that labored in the Crab Clan's Iron Mines. [3] Their main job had always been to browbeat cargo bearers and beasts of burden. [4]
Fear was a Taskmaster's greatest tool, and all Taskmasters were masters of intimidation. Keeping in line with their use of fear, the Taskmasters specialized in using whips as their primary weapon. [3]
Yasuki Taskmasters Techniques
Edit
See also
Edit
References
Ad blocker interference detected!
Wikia is a free-to-use site that makes money from advertising. We have a modified experience for viewers using ad blockers

Wikia is not accessible if you've made further modifications. Remove the custom ad blocker rule(s) and the page will load as expected.