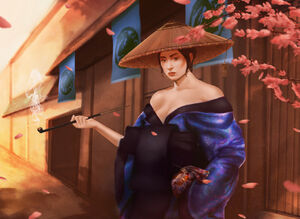 Yasuki Shairei was a courtier and merchant of the Crab Clan.
In 1199 the scout Hiruma Maiko was sent as yojimbo to the old, pleasant and very sharp-eyed merchant. She reported to the Crab Clan Champion Hida Kisada about the newly appointed Imperial Advisor Yasuki Makoto. Her Lord sent Shairei to the Colonies, to tell Kuni Renyu he had to return mainland Rokugan to give counsel to his brother the Crab Champion. [1] Shairei was under the command of the Kuni Daimyo. [2]
External Links
Edit
References
Ad blocker interference detected!
Wikia is a free-to-use site that makes money from advertising. We have a modified experience for viewers using ad blockers

Wikia is not accessible if you've made further modifications. Remove the custom ad blocker rule(s) and the page will load as expected.