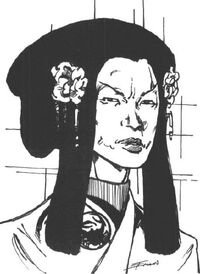 Yasuki Nobuko was a dishonest, scheming merchant [1]
Ryoko Owari
Edit
Nobuko moved to Ryoko Owari Toshi in 1120. Once her house suffered a theft supposedly by the famed Ryoko Ninja, but the city's Emerald Magistrate Ashidaka Naritoki caught him and executed on the spot. She was excellently depicted by Shiba Shonagon in the book Memoirs of an Opium Eater, as one of the most dull and tiresome woman anyone ever met. [2]
Customers
Edit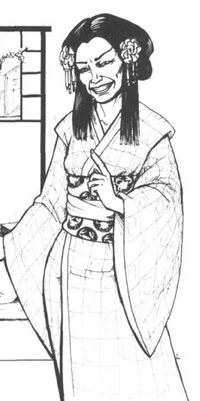 One of her most important customers was Isawa Orimono, cousin to a Phoenix daimyo. [3]
Cultists
Edit
A group of samurai asked her about maho activities, and she explained the rumors about Moon cultists wanted to destroy the Temple of the Lady Sun, and caused Amaterasu to curse the city. [4]
References
Ad blocker interference detected!
Wikia is a free-to-use site that makes money from advertising. We have a modified experience for viewers using ad blockers

Wikia is not accessible if you've made further modifications. Remove the custom ad blocker rule(s) and the page will load as expected.