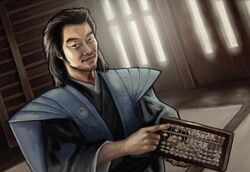 Yasuki Nakura was a courtier and merchant of the Crab Clan whose charm and winning smile has sealed more than a few deals.
Renewed Friendship with the Mantis
Edit
In 1200 the Kuni finished the work of cleansing the taint from the armor, which had been passed by the Mantis to the Crab decades ago. A celebration was held at Kyuden Hida, which was attended by Yoritomo Harumi, sister of the Mantis Clan Champion. Nakura lobbied the Mantis aid to the Kaiu Wall, and in turn, he gave to Harumi a scroll regarding Yoritomo Aramasu, [1] whose ashes were being under the scrutiny of the Scorpion Clan, who wished to bring them to the Traitor's Grove. [2]
External Links
Edit
References