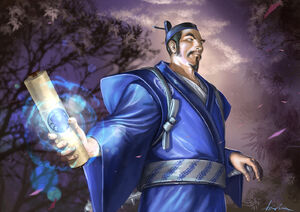 Yasuki Hora was a courtier and merchant of the Crab Clan.
Hora was appointed in the Ivory Court in the Second City. In 1199 members of the Colonial Court openly fought, blades unsheathed. An unsanctioned duel between a Lion samurai and a Scorpion was quickly joined by followers of any of both Empress' sons. The Dragon delegation with Togashi Noboru himself at their head demanded other samurai to drop the weapons at once, or Noboru would kill any who defy his command. [1]
External Links
Edit
References
Ad blocker interference detected!
Wikia is a free-to-use site that makes money from advertising. We have a modified experience for viewers using ad blockers

Wikia is not accessible if you've made further modifications. Remove the custom ad blocker rule(s) and the page will load as expected.