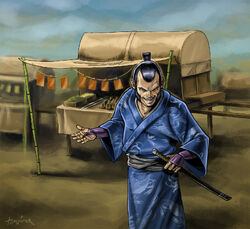 Yasuki Dokansuto was a courtier merchant of the Crab Clan and Kolat member.
Infiltrating the Crab
Edit
After the Destroyer War was over, the kolat worked to made a stronger network of agents within the Crab Clan. [1]
Colonies
Edit
In 1198 Dokansuto was an elder and venerable representative of his family, but other saw him as a senile or demented for his odd behaviour. Dokansuto evaluated things in a bizarre way, on a scale of tanuki. He was sent to the Colonies in search of new resources for the clan to claim. They stumbled upon a grove, where Dokansuto realized that a strange tree was the entrance to a hidden storage [2] of House Rafiq. [3]
Fallen and Egged
Edit
Dokansuto eventualy fallen to P'an Ku's madness, and he was taken in custody by the Phoenix Clan. In 1199 the Master of Void Isawa Kimi used an Egg of P'an Ku upon him, believing that if she exposed someone who suffered from a pre-existing malady, they might be reborn by the Egg without such infirmities. Another version of him appeared. Younger, haler, saner, and utterly terrifying. [4]
External Links
Edit
References
Ad blocker interference detected!
Wikia is a free-to-use site that makes money from advertising. We have a modified experience for viewers using ad blockers

Wikia is not accessible if you've made further modifications. Remove the custom ad blocker rule(s) and the page will load as expected.