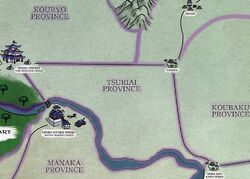 Yashigi (U8) was a small village in the Tsuriai province [1] that offered supplies and rest to travellers on their journeys through Unicorn lands towards Shiro Shinjo. The village was simple and clean, but suffered frequent earthquakes. [2]
Economics
Edit
A jade mine was Yashigi's principle source of income. [3] The mine was found by happenstance by Otaku Yashigi when he was walking in the Emperor's Road that linked the village with Shiro Shinjo. [4] The Forty-Eighth Junghar
Legion, maintained peace in the area and protected the jade mines from bandits. Two Legions from the Khol Army made camp near the village. [5]
The War of Dark Fire
Edit
Yashigi was one of many Unicorn villages destroyed by the invasion of the Army of Fire. The Yobanjin forces went on to seige Shiro Shinjo. [3]
Notable buildings
Edit
References