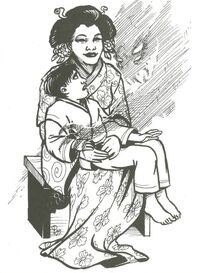 Yamauba, the "Mountain Ogress", were supai oni which ressembled just a maiden during their ventures within Rokugani castles and houses. With such illusion they kidnapped and killed the samurai's children. [1]
Appearance
Edit
They were passable actresses, but could be recognized by their cold skin or a mouth in the back of their necks. In their true form, they were eyeless snakes and fought with big claws. [1]
See also
Edit
References
Ad blocker interference detected!
Wikia is a free-to-use site that makes money from advertising. We have a modified experience for viewers using ad blockers

Wikia is not accessible if you've made further modifications. Remove the custom ad blocker rule(s) and the page will load as expected.