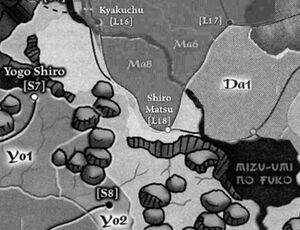 The Yama province (Ma8) was the southern Lion province, in the Matsu territory. It extended in the south from the Spine of the World Mountains bordering the north eastern Scorpion Clan territory and the Beiden Pass, to the northern borders of the Crane Clan territory, being enveloped in the north with the Lion Azuma province borders (Ma6). Notable locations within the province included Shiro Matsu. [1]
Former name
Edit
This province was formerly known as Hamana province, being the Lion samurai Ataka one of its governors. [2] This land initially gained the nickname "Yama" due to its proximity to the Spine of the World Mountains, and it eventually supplanted the original title. [3]
References
↑ Secrets of the Lion, p. 95
↑ Roleplaying in the Emerald Empire, p. 14
↑ The Atlas of Rokugan, p. 97
Sources Conflict
The sources relating to this article are in conflict with each other.
Ma7 must be Kaeru province, as L17 is Kaeru Toshi, so most probably Ma6 is Azuma province.--Oni no Pikachu (talk) 22:28, July 30, 2012 (UTC)
Ad blocker interference detected!
Wikia is a free-to-use site that makes money from advertising. We have a modified experience for viewers using ad blockers

Wikia is not accessible if you've made further modifications. Remove the custom ad blocker rule(s) and the page will load as expected.